Organizers
Dear Friends and Supporters of Article 9,

We are pleased to send you some information about the Global Article 9 Campaign to Abolish War's recent activities and related developments, as well as an update about our upcoming event in Costa Rica.
ARTICLE 9 AND ARTICLE 12 CONFERENCE
-- PEACE CONSTITUTIONS FOR GLOBAL DISARMAMENT


A year after the Global Article 9 Conference to Abolish War that was held in May 2008 in Japan, an international follow-up event will take place as follows:
Date:
July 9-10, 2009
Venue:
On board Peace Boat (SS Oceanic)
Location:
Puntarenas, Costa Rica
On the basis of last year's achievements, the upcoming conference will explore the value of Article 9 of the Japanese Constitution and of Article 12 of the Costa Rican Constitution in their historical perspectives and contemporary contexts, as well as their regional significance. Indeed, Article 9 of the Japanese Constitution has been considered as the foundation for Northeast Asian security, while Article 12 inspired Ecuador, Bolivia, and the Union of South American Nations (UNASUR) to adopt peace clauses, creating a growing momentum in the region. As the Peace Constitutions of Japan and Costa Rica have prevented both countries from experiencing war since their adoption, ways of preserving them locally and promoting them globally will be discussed.
Furthermore, in light of the current financial and food crises, as well as violent conflicts and massive poverty that ravage the world today, the conference will look at the links between these peace clauses and Article 26 of the United Nations Charter, which calls for the establishment of a system for the regulation of armaments with the least diversion of the world's human and economic resources for armaments in order to promote the establishment and maintenance of international peace and security.
Building upon its history of using military budget for education after disbanding its army, Costa Rica initiated a debate in the UN Security Council on collective security and armament regulation in November 2008.
Welcoming the Costa Rican initiative, the conference will discuss its significance and explore how to develop and synergize national, regional and global efforts towards shifting priorities by which resources are allocated. It will advocate for a decrease in military expenditures to invest in financing sustainable development and human security. Participants will conclude by adopting a declaration, possibly proposing a UN resolution acknowledging the role Peace Constitutions play in promoting global disarmament.
** English will be the working language of the conference. Translation between Spanish and Japanese may be provided.
Fore more information, including on how to participate, please contact us at
article-9@peaceboat.gr.jp
The event is being co-sponsored by the Global Article 9 Campaign to Abolish War, Peace Boat, IALANA - Latin America Branch, and the Faculty of Law of the University of Costa Rica.
THE FUTURE OF THE SIX-PARTY TALKS


On May 11, a panel discussion co-sponsored by Sejong Society of Washington DC and the Institute for Policy Studies was held at Johns Hopkins University, in Washington D.C. on "The Future of the Six-Party Talks - A view from civil society."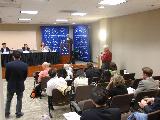 Experts and activists from South Korea, Japan and the US shared their insights on how to resume the stalled Six-Party Talks (SPT), work towards the denuclearization of the Korean peninsula, and bring about peace in Northeast Asia.
Cheong Wooksik from Peace Network (South Korea) advocated for a new approach to North Korea based on 'audacious engagement' and 'restraint deterrence' that would simultaneously address the concerns of the US, North Korea, and other parties in the SPT while reducing the US-led military power and preparedness against North Korea parallel to the denuclearization process.
Kawasaki Akira from Peace Boat and the Global Article 9 Campaign (Japan) emphasized the need to pursue confidence-building measures and promote conflict prevention in Northeast Asia, and promote a less military-dependent security mechanism in the region.
Indeed, the Northeast Asian civil society is strengthening its call for new perspectives for a lasting peace mechanism in the region. The Northeast Asian network of Global Partnership for the Prevention of Armed Conflict (GPPAC) promotes a civil society forum in parallel to the governmental Six-Party Talks. Global Article 9 Conference to Abolish War was successfully organized in Japan in May 2008, in declaring that the war-renouncing Japanese Peace Constitution should be utilized as a shared norm to build a peace mechanism in the region.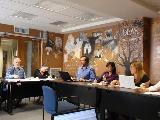 In addition to this public discussion on the future of the Six-Party Talks, the Pacific Freeze Campaign held a closed strategic meeting during which key activists from the US, Japan, Korea and Europe exchanged views on the important role played by civil society in pushing towards the reduction of military spending at the grassroots, national, regional and international levels. A clear synergy emerged between the different campaigns and the Global Article 9 Campaign to Abolish War.
This series of meetings could not have been timelier, as on May 25-26, the Democratic People's Republic of Korea (DPRK) conducted nuclear tests, threatening peace and security in the Northeast Asian region and internationally. The international community strongly condemned Pyongyang's move, for it runs the risk of increasing arms race in the region.
Read an in-depth analysis by John Feffer of Foreign Policy in Focus,
here
.
Also read Peace Boat's reaction to the North Korean nuclear tests,
here
.
For more information, you can visit the following websites:
Institute for Policy Studies
Pacific Freeze Campaign
Peace Boat
Peace Network
Sejong Society of Washington DC
NOBEL PEACE LAUREATES APPEAL FOR NUCLEAR WEAPONS ABOLITION



This month, a group of 17 Nobel Peace Laureates released an appeal to world leaders to take action for eliminating nuclear weapons. Among the signatories figure current presidents Oscar Arias from Costa Rica and José Ramos-Horta from East Timor, former presidents Kim Dae-jung from South Korea and Frederik Willem de Klerk from South Africa, as well as IAEA's Mohammed ElBaradei and the Dalai Lama, among others.
The initiative of issuing such declaration was taken by 1976 Nobel Peace Laureate and long-time supporter of the Global Article 9 Campaign Mairead Maguire, after she visited Hiroshima to participate in the Global Article 9 Conference to Abolish War in May 2008.
Known as the Hiroshima-Nagasaki Declaration of Nobel Peace Laureates, the document deplores that little progress has been by nuclear weapon states to fulfill their obligations under the Non-Proliferation Treaty (NPT) and expresses concern at the renewed threat of proliferation by non-nuclear weapon states.
Just a year away from the NPT Review Conference, the Nobel Peace Laureates urge world leaders to seize the momentum and echo US President Barak Obama's appeal for a nuclear free world, put an end to nuclear proliferation, and set the course towards abolition.
The declaration calls for "a new manner of thinking" and insists "eliminating nuclear weapons is indeed a possibility". Praising the efforts made by Hiroshima and Nagasaki A-bomb survivors and the processes that succeeded in banning landmines and cluster bombs, the Nobel Peace Laureates urge citizen of the world to press their leaders to come together to advance nuclear disarmament towards abolition.
Read the full Hiroshima-Nagasaki Declaration of Nobel Peace Laureates, its background and messages by Nobel Peace Laureates,
here
.
Picture credit: Hiroshima Peace Media Center
HOW LAWYERS AROUND THE WORLD CAN MAKE USE OF ARTICLE 9


A book based on the Special Forum: International Lawyers' Panel held during the Global Article 9 Conference to Abolish War in May 2008 has been recently published.
The book features transcripts of speeches by lawyers from around the world such as Lee Jung hee of South Korea/MINBUN - Lawyers for a Democratic Society; Robin Alexander of The National Lawyers Guild of USA; Roland Weyl, France/International Association of Democratic Lawyers; Rifat Moustafa, Syria/Arab Lawyers Union; Augustin Kemadjou, Cameroon/International Association of Democratic Lawyers; Carlos Vargas Pizarro, Costa Rica/International Association of Lawyers Against Nuclear Arms (IALANA) and several distinguished Japanese lawyers.
It also examines the Nagoya High Court's historic April 2008 ruling that the Japanese Air Self-Defense Force's airlifting of multinational combat troops into the war zone of Baghdad is unconstitutional because it is an act integral to other countries' use of force, and features an examination of the right to live in peace from a diverse range of legal perspectives.
The book (in Japanese language only) is available from Amazon Japan,
here
.
ARTICLE 9 EVENT IN TORONTO

On May 15, the Toronto Article 9 Event Committee hosted an event "Article 9 of the Japanese Constitution: Bringing Peace to Today's World" at OISE Ontario Institute for Studies in Education), the University of Toronto.
The event was well attended by over 80 participants, including students and faculties of the University of Toronto, local peace activists and journalists, and a few participants from out of town.
Overall, the event was a great success. For a full report, please see the Peace Philosophy Centre's website
here
.
Thank you for your interest in and support for the Global Article 9 Campaign to Abolish War.

Peace,

Newsletter Editor:




Celine Nahory




International Coordinator


Global Article 9 Campaign to Abolish War / Peace Boat