Global Article 9 Conference (May 2008) - Article 9 & Article 12 Conference (July 2009)
International Peace Constitutions Conference (November 2009)
---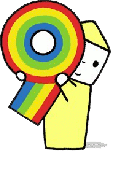 Global Article 9 Conference to Abolish War, May 2008, Japan
As a major part of the Global Article 9 Campaign to Abolish War, a large-scale conference was held in Japan from May 4-6, 2008. This three-day event attracted over 33,000 participants nationwide: over 22,000 in Tokyo, 8,000 in Osaka, 2,000 in Hiroshima and 1,000 in Sendai. Close to 200 international guest speakers and participants came from 40 different countries and regions to represent all continents at the conference. With the participation of Nobel Peace Laureates, intellectuals, cultural figures and NGO activists, the conference has been a forum for dialogue and discussions on the role that citizens of the world can play to realize the principles of Article 9, through promoting disarmament, demilitarization and a culture of peace. A final declaration was issued, in which all official guests and the over 200 members of the Japan organizing committee pledged to carry on the international campaign to support Article 9 "as a shared property of the world" that can "act as an international peace mechanism" and called on governments to adopt similar peace clauses in their constitutions. In addition to the Global Article 9 Declaration to Abolish War, participants adopted statements to the G8 and the NPT Review Conference.
Article 9 and Article 12 Conference -- Peace Constitutions for Global Disarmament, July 2009, Costa Rica
A year after the Global Article 9 Conference to Abolish War, an international follow-up event was held onboard Peace Boat at the port of Puntarenas, Costa Rica with more than 500 participants. Guest speakers from Costa Rica, Ecuador, Panama, the United States, Switzerland and Japan explored the value of Article 9 of the Japanese Constitution and of Article 12 of the Costa Rican Constitution in their historical perspectives and contemporary contexts, as well as their regional and global significance. They also looked at the links between these peace clauses and Article 26 of the United Nations Charter, which calls for the establishment of a system for the regulation of armaments with the least diversion of the world's human and economic resources for armaments in order to promote the establishment and maintenance of international peace and security. The conference concluded by adopting a declaration, proposing a UN resolution acknowledging the role peace constitutions play in promoting global disarmament and calling on government to shift priorities in the allocation of resources and decrease military expenditures to invest in financing sustainable development, human security and peace.
International Peace Constitutions Conference for Nuclear and Foreign Military Base Abolition (November 5-6, 2009)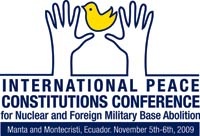 Co-organized by the Global Article 9 Campaign to Abolish War, Peace Boat and the International Network for the Abolition of Foreign Military Bases (NO Bases), the International Peace Constitutions Conference for Nuclear and Foreign Military Base Abolition took place on November 5-6 in Manta and Montecristi, Ecuador. The event, held in the same civic center where Ecuador's new peace constitution was written and adopted in November of 2008 and at a renowned university, focused on the concrete functions and outcomes of peace constitutions, especially in the areas of nuclear abolition and foreign military base abolition.The conference consisted of sessions on peace constitutions and foreign military base and nuclear abolition and testimonies from ten Hibakusha — or survivors of the atomic bombings of Hiroshima and Nagasaki who are currently travelling with Peace Boat as part of its Global Voyage for a Nuclear Free World – Peace Boat Hibakusha Project. Performances, cultural workshops and a peace festival also took place. In addition to the conference, a delegation of Hibakusha met key high-level officials in the Ecuadorean government in Quito and three mayors from the Manabi region joined the nuclear disarmament initiative Mayors for Peace.