Article 9 Dancers on board Peace Boat's 62nd Global Voyage!
A group of creative youth are sharing the message and spirit of Japan's Peace Constitution with people they meet during Peace Boat's 62nd Global Voyage. Forming a dance team earlier this year, they performed at the Global Article 9 Conference to Abolish War plenary session on May 4, before departing for their three-month voyage ten days later. They will display their talents during exchange programmes in various ports around the world, sharing information about Article 9 and hearing local people's views on its nonviolent principles, as well as collecting signatures of support.
The group held their first activity during a lively youth festival in Da Nang, Viet Nam, with 200 participants from both the Peace Boat and local youth. After a reading of Article 9 and people sharing their feelings towards Article 9, the 15 dancers performed to an enthusiastic audience. Following this, 209 young participants from Da Nang crowded around to sign the Global Article 9 Statement and share their commitment towards working for a world without war.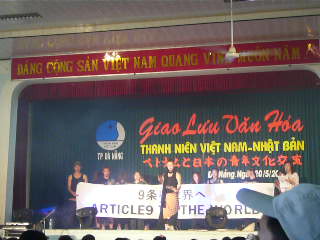 80 participants on the voyage have now joined the dance team, with the warm response in Viet Nam encouraging them to deepen their own connection to Article 9, and share it through performances and other creative actions during their journey throughout the world over the next three months.
Pictures and stories from their activities in upcoming ports, including the Baqa'a Palestinian refugee camp in Jordan, Le Havre, Amsterdam and Reykjavik will be coming soon –please check this page for further updates!